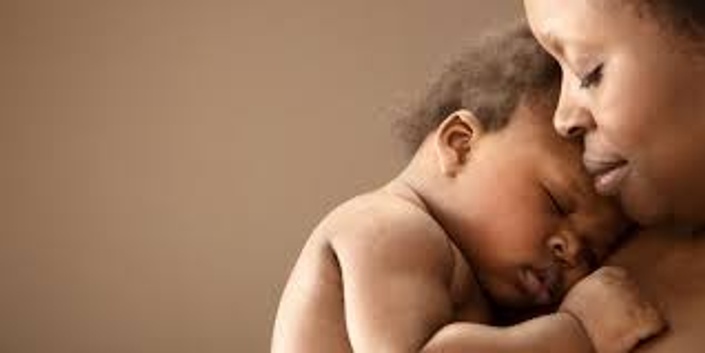 Postpartum Doula Training
Train with an organization that is committed to birth justice and advocacy. You're not just a Doula. You are a leader and a change agent.
Watch Promo
Enroll in Course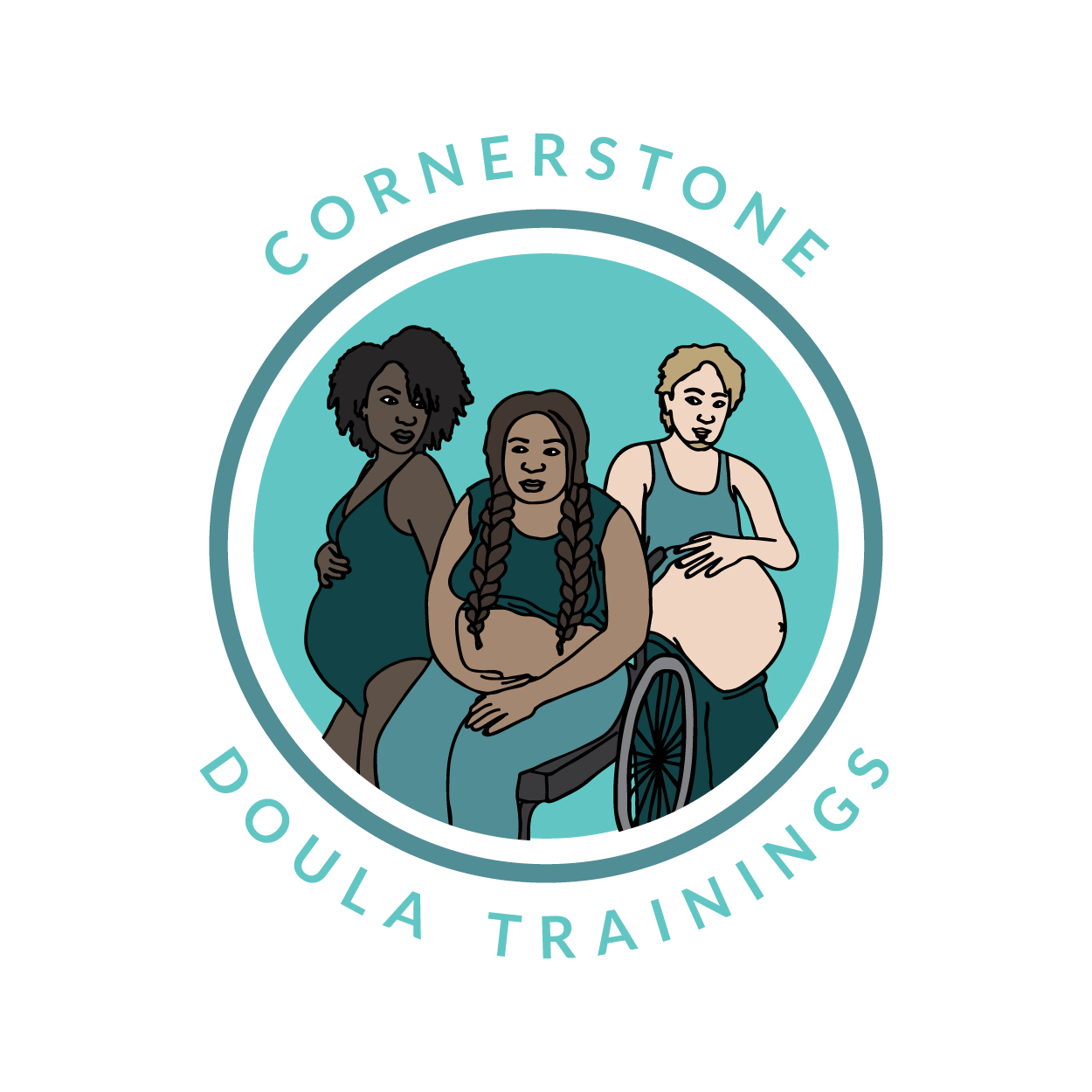 "I could listen to Juli and Nickie talk forever! You can tell how passionate they are about the work they do and the people they've worked with. I decided to take the postpartum doula training due to a friend having complications after having twins. Within the first hour, I knew I wanted to sign up for the Labor Doula training. Nickie has this way of pulling you in and wanting to learn more. I highly recommend their courses for anyone interested in Doula Trainings."
- Lyndsay, B., Cornerstone Doula
You are needed now more than ever.
You are an advocate. You are a change agent. You are a part of a movement. A movement to reclaim human rights starting at the åbeginning: birth.
Birthwork is social justice work. Birthwork is environmental justice work. Birthwork is racial justice work.
Birthwork is political.
OUR MISSION is to organize and activate a radically inclusive community of doulas and birthkeepers to provide full spectrum C.A.R.E. to all. Cornerstone doulas and birthkeepers champion equitable access to safe, supported and dignified care for all communities throughout the reproductive lifespan. Our collective C.A.R.E. is focused on closing gaps in disparate maternal and infant health outcomes, increasing reproductive health equity and creating positive change in all reproductive health outcomes — and as a result, our society at large.
---
Cornerstone Doulas & Birthkeepers C.A.R.E.
C: Care. Connection. Community.
A: Authenticity. Access. Advocacy.
R: Relevant. Reliable. Reputable.
E: Excellence. Expertise. Equity
Healing. Bonding. Transition. Connection. Reflection. Sacredness. Tradition. Integration. Celebration.
The postpartum period is a sacred and transformative time. Being present for new families as they integrate the birth of their child into their life's narrative is an honor that comes with deep responsibility. Before entering the postpartum space you must understand the needs of the birthing person, newborn and partner: Their emotional needs, psychosocial needs, psychological needs and physiological needs.
You will leave this training ready to enter the postpartum space.
---
In this course, you will gain the knowledge, support, confidence and skills to begin your Postpartum Doula practice. To be successful and sustainable as a Doula, you must start with a solid foundation to hold your practice as it grows and expands. Throughout this twelve module course with over 16 hours of video lecture, we will first help build this foundation for you, then we will delve deep into incredibly important issues such as birth justice, cultural humility, equity, trauma informed care, boundaries, self care and the emotional, physical, psychosocial, intersectional and practical aspects of Postpartum Doula work. You will learn through many different activities: Video lecture modules, online research, short writing assignments, supplemental videos and handouts, and quizzes. Plus, you'll have access to weekly drop-in Q&A sessions with your trainers, where you can have all your questions answered and connect with other students who are going through online Doula Training.
This intensive Postpartum Doula Training Workshop gives you, the aspiring birth worker everything you'll need to build a sustainable, equitable, ethical and effective Postpartum Doula practice. We don't stop there: you have direct access to your trainers for mentoring and support post-training. We build community and we are here for YOU. There are no certification fees, no hidden fees and your certification (if you choose to be certified) is for life.
Cornerstone Postpartum Doulas are internationally recognized as leaders in birth justice and advocacy.
---
Cornerstone Doulas provide continuous unbiased, client-centered support throughout the reproductive lifespan. This support focuses on the whole person, family and community and encompasses emotional, physical, psychosocial, and educational support techniques. Cornerstone doulas employ individualized supportive communication, culturally responsive care, hands-on therapeutic techniques and an equitable approach with all clients.

Are Doulas needed during Covid? Aren't hospitals restricting visitors during birth?
Though most hospitals are imposing restrictions on visitors during this pandemic, Doulas are needed now, more than ever. Great innovation is being used at this time to deliver the support and advocacy birthers need, including virtual Doula support, extensive prenatal education, and planning and pivots, such as transferring to homebirth.
You are needed.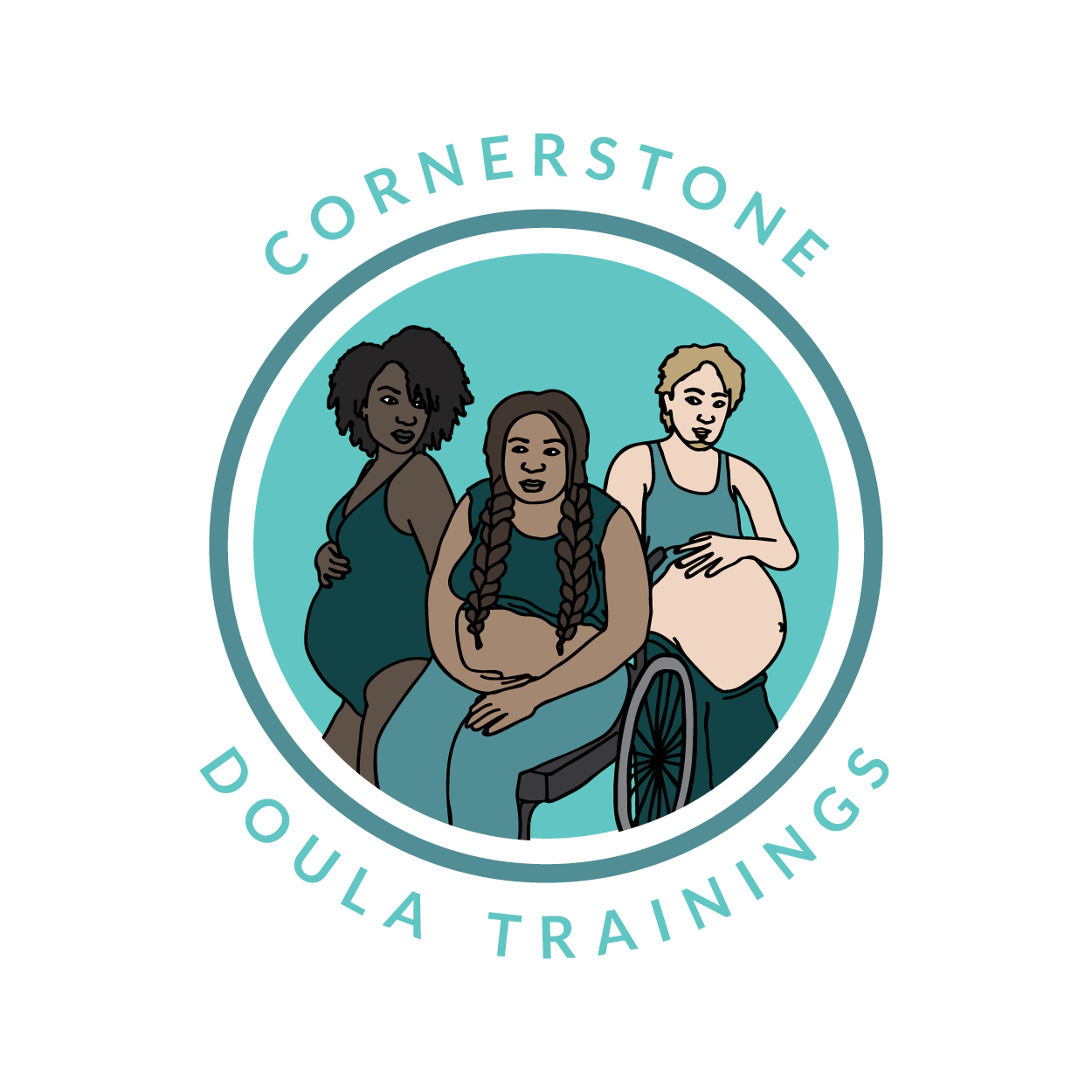 "The course was something that I needed right now. We are facing tough times right now and this course was knowledge lead by love and good intentions. At the end of each work day I looked forward to learning and engaging others in what I was learning. My heart is over joyed with the new knowledge I have. I'm excited about the unknown and where this will take me. Being a birth worker for me is such a magical thing that I am proud of. I thank Cornerstone and everyone that is involved with making this trainings easily accessible for everyone in all walk of life."
-Tiara, R., Cornerstone Postpartum Doula, Online program graduate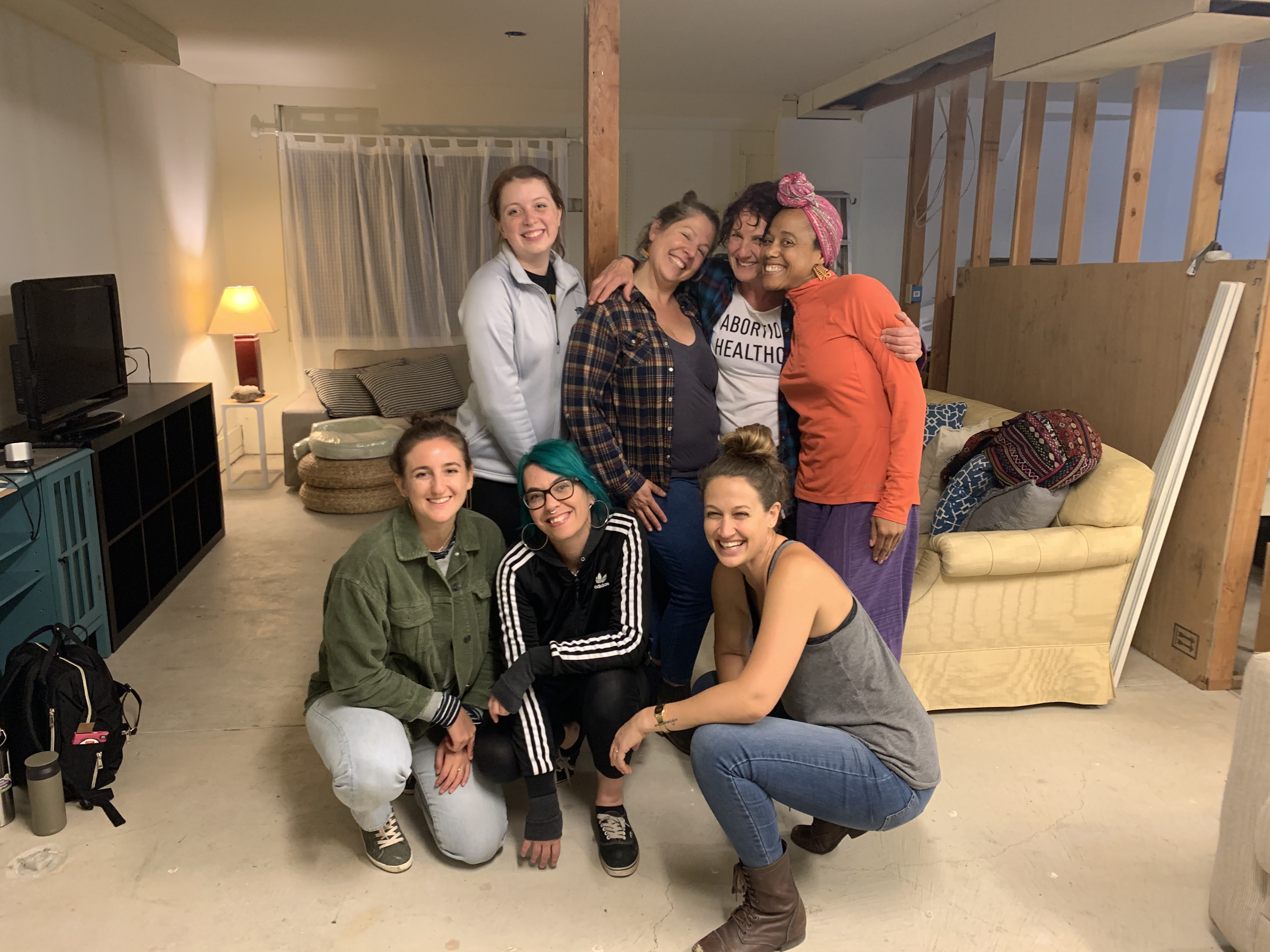 "I am so lucky to have found and completed my birth, postpartum training as well as my childbirth educator training and a slew of other advanced courses with Juli and Nickie.
Because of Cornerstone, I have discovered my calling, my love of birth and reproductive justice, as well as being able to support all families from all walks of life.
I am especially grateful to my incredible training when it comes to serving Deaf families. Combining the tools given to be through my trainings, the excellent mentoring from Juli and Nickie, my background and experience within the Deaf community had provided me a specialized niche in which I successfully employ as a birth professional.
Cornerstone WALKS THE TALK in regards to their inclusive practices and the diverse and deeply analytical courses and workshops.
Their training is top notch, with tightly knit community of trained individuals who are passionate about the work we do. I can't thank Nickie and Juli enough for opening new opportunities in my life both personally and professionally."
- Lindsay K., Cornerstone Doula
Course Curriculum
Course Introduction
Available in days
days after you enroll
Historical Context
Available in days
days after you enroll
The Nitty Gritty
Available in days
days after you enroll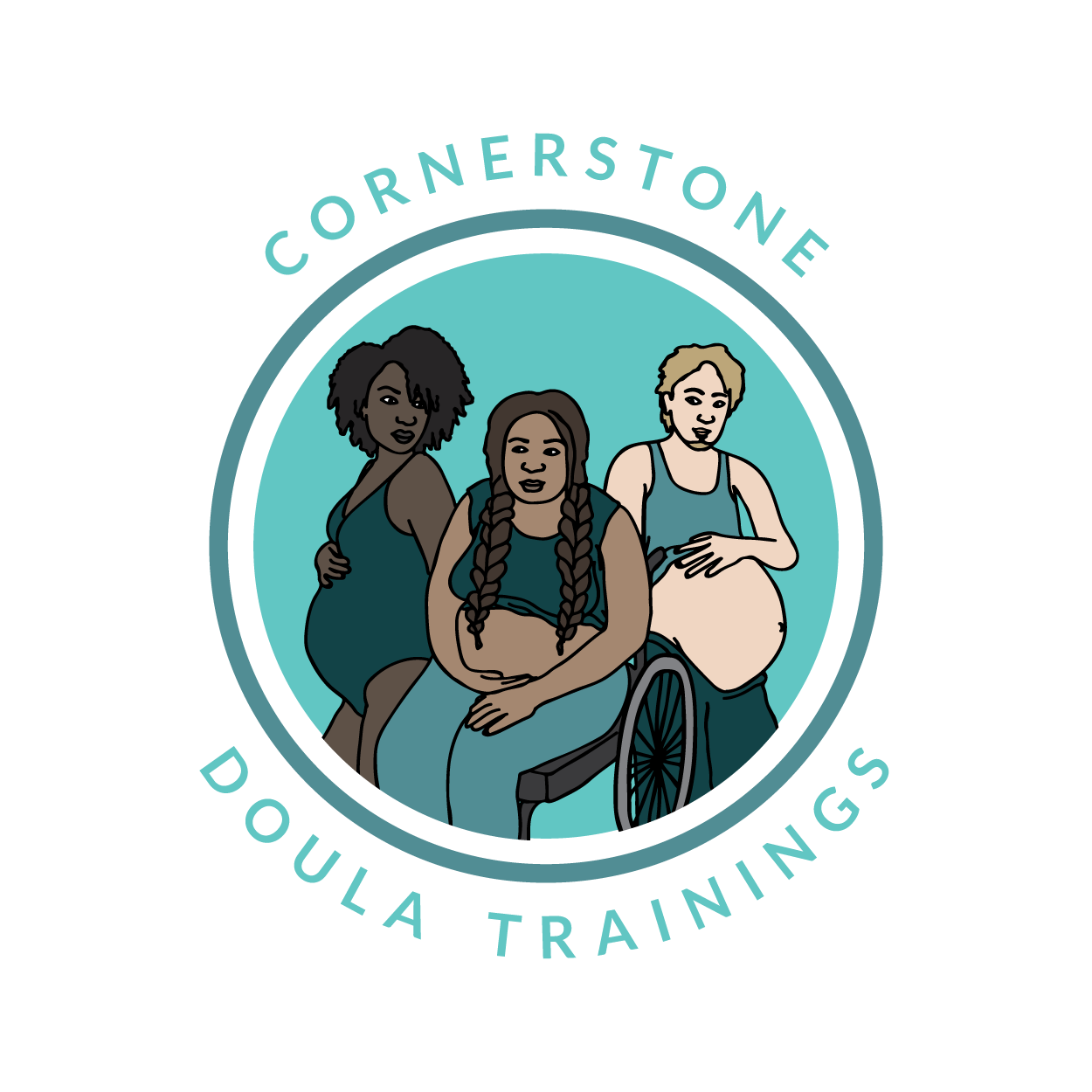 "When my life started to take a different direction, I did not know what was next. My friend approached me and said to take the PP Doula course. She sent me the link and I said yes! Talked to another friend and we took our course.

Nicky is amazing in what she opens your eyes to. During the course I had tears because I thought, Wow how different my experience could have been. How if I had the support I needed, I would not have felt so alone. Everyone thinks absolutely if you know about Doulas (which I did not) that this is a luxury for people with money, yet it is not. Actually, it is something that should be a necessity and if we can help get the word out we can help many families during this beautiful yet emotional time. I am spreading the word about Cornerstone and Doulas to help make a difference in lives. This experience is definitely another one of the most rewarding journeys I am going to embark on.

Thank you for sharing your stories, taking the time to encourage, empower, and educate others, while providing us with the tools to create a world of difference."
- Shayna, M., Cornerstone Doula
Frequently Asked Questions
When does the course start and finish?
The course starts now and never ends! It is a completely self-paced online course - you decide when you start and when you finish.
How long do I have access to the course?
How does lifetime access sound? After enrolling, you have unlimited access to this course for as long as you like - across any and all devices you own.
How is online Doula training different than in-person training?
Though you won't be in the classroom with other aspiring Doulas, you'll be getting the exact same education - plus added modules - as our in-person trainings. You'll be engaging with the course content through all learning modes and styles: visual, audio, and hands-on AND you'll be able to meet live (virtually) with other students who are taking these courses, as well as your trainers for weekly drop-in Q&A sessions. The only real difference is that you're taking the course from whatever location you choose and go at whatever pace you need.
When are the live Q&A sessions, and what can I expect from them?
Our live drop-in zoom sessions are scheduled as follows: Saturdays from 10am-12pm PST, every other week starting on April 11, 2020 Tuesdays from 5-7pm PST, every other week starting on April 14, 2020. We will have a calendar posted on this webpage to keep everyone up to date on the meeting times. These live sessions are "drop-in", which means you can join for all of the meeting or any part of it. You're not required to join, but are encouraged to. Connecting with your trainers and other students is an invaluable way to get support and create community through this process, and beyond. You can ask us any questions that you have about the course content, as well as other topics that may be coming up for you. You'll be able to find Doula partners, backups, friends and colleagues through this process, as well.
What happens when I complete my online training?
Immediately after you complete a course, you will receive a certificate of completion and can begin your Doula practice immediately. If you plan to become a certified Labor, Birth & Postpartum Doula, you'll download the certification packet in our store, complete the requirements and then receive your certification. We are here for you through the process, and can help answer any and all questions that come up while you're completing the requirements. During social distancing times, we will be waiving any certification requirements that cannot be completed online or remotely, ex: the hospital tour.
Is online training just as good as in-person?
Believe me, we had our reservations about online doula training, as well. Through the development of these courses, we were surprised to learn that the online format is just as good, if not better than in-person trainings. When we host our in-person trainings, the classes are intensive 8 hour days. And through taking these courses in smaller modules at your own pace, there is so much more opportunity to digest the information on your own terms. We build community into the courses, so that you will have the opportunity to connect with others who are going through the trainings, as well as live meetings with your trainers. Further, we were able to add even more content to the online trainings than we have in our in-person courses. You are getting an incredibly comprehensive and inclusive education that leaves nothing out.
How can I get extra learning support if I need it?
Your trainers are here for you. You'll have weekly drop-in hours for live zoom group meetings with your trainers, and we can also make one on one zoom appointments with you if you're need more guidance. We also offer one on one mentoring packages for those who want to engage with the leadership of Cornerstone on a deeper level.
How long will it take me to get through the course?
This really depends on you. This course allows you to learn at your own pace. In each learning module, you will have a video lecture to watch and these range anywhere from 20 minutes to 5 hours. You can start and stop the videos, take breaks and re-watch as many times as you need to. After you complete the video lecture, you'll have other learning activities to complete, which will include handouts to read, online research to complete, extra short supplemental videos, short writing exercises and quizzes. You can expect to take as much time as an in-person course to complete the online trainings, but you can also go at your own pace, so you can take much longer if you need to. There is great benefit in taking these courses at your own pace. Since there is so much information, you can take your time digesting each module, and start the next when you feel ready.
What is your refund policy?
Because your purchase opens access to the entire course, we cannot offer refunds. All payments made to Cornerstone via this platform are non-refundable and non-transferable.
What are your certification requirements?
Our statement on certification: All aspiring doulas and birthkeeprs should know that at this time, it is not legally required to be certified to practice in the US. Cornerstone Doula Trainings recognizes that certification is not for everyone and can, in fact create barriers to practice. Further, Cornerstone Doula Trainings also recognizes the historical context of settler colonialism and white supremacy in certification, licensure, professionalism and legitimization of birthworkers - including midwives, doulas and birthkeepers. We do not require our doulas and birthkeepers to certify, but do offer certification for those who desire to have it. Because there is no accreditation for doula trainings in the US, all certifying bodies carry the same merit. If you do choose to be certified, in order to decide who to certify and train with, we recommend asking yourself a few questions. Do I need certification? Do you plan to be employed by an institution such as a hospital, clinic or jail? Find out if they require certification - most do. Do you work in a state that requires certification for Medi-caid reimbursement? Certification is also required for Medi-caid reimbursement. ​Is certification important to me professionally? This is a question that only you can answer. We believe that in order to be an excellent and impactful doula or birthkeeper, you don't need to be certified. Contextually, we do also believe that the requirements we have set forth for certification are the essential components all birth workers need to be successful and supported. We support your decision to certify and not to certify. You can also complete all required steps for certification with us and choose not to have a certificate at the end of your journey. You are autonomous, and we support you in building out your business however you desire. ​What benefit will I gain from certification? Not all doula and birthkeeper certifications are alike. Ask yourself if the certification is developed for your benefit or for the certifying organization's benefit. Are there hidden fees? Major hoops to jump through? Are there barriers to certification that you feel are unfair or biased? Will you receive post-certification support from the organization? What business tools will you gain from becoming certified? What community support does your certifying organization offer? ​Cornerstone has no hidden fees, hoops to jump through or barriers. You have direct access to your trainers for post-training support, and are required to take a solid business course for birthworkers to be certified. We also engage in continuous community building post-training, through our Community Commitment Model. You will become a part of a huge network of birthworkers and community members through Cornerstone. We are here for you. Postpartum Doula Certification requirements: Complete Labor & Birth Doula Training Provide proof of Infant & Child CPR and First Aid certification Complete required reading for the course: The First Forty Days, Ou A Taste of Our Own Medicine, Bean The Ultimate Breastfeeding Book of Answers, Newman Natural Health After Birth, Romm
Your Instructor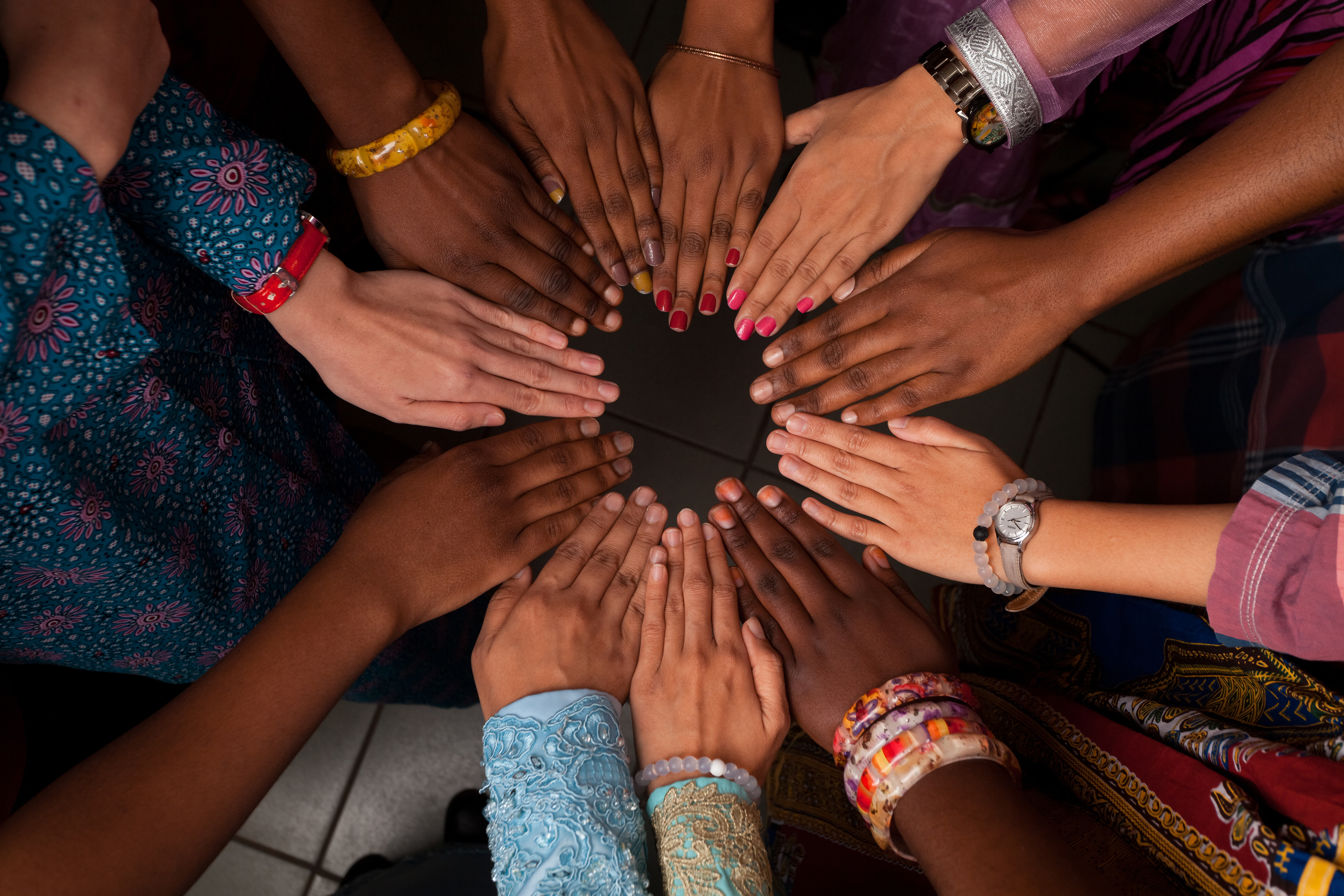 Nickie Tilsner, QMHP-R, RN:
She/her. Nickie Tilsner is a Registered Nurse, Qualified Mental Health Professional, Doula, Childbirth Educator, Harm Reduction Practitioner and Crisis Intervention Counselor with over 18 years experience in birth work. As the Co-Founder and Co-Executive Director of Cornerstone Doula Trainings, Nickie has trained thousands of birth workers in the San Francisco Bay Area, CA since 2006. Nickie has a strong commitment to social, birth & reproductive justice and focuses her trainings, as well as her own education and daily learning on social justice frameworks through an intersectional lens. She is so very honored to be sharing all of this absolutely essential information, support and skill to new birth workers, and views birth work as a revolutionary world changing action. Nickie brings to her trainings a broad spectrum of knowledge and a deep devotion to helping pregnant people, their partners, babies and communities have the most dignified, respected and joyful beginnings in their new lives together.
Juli Tilsner, LM, CPM:
She/her. Juli Tilsner is a California licensed Midwife, Certified Professional Midwife and the Co-Founder & Co-Executive Director of Cornerstone Doula Trainings. Juli is also the Co-author of RE:BIRTH Your Birth Informed. Respected. Empowered and the Co-founder of RE:BIRTH Childbirth Education.
Juli's passion, path and practice in the birth world has shown itself to be a continually evolving process of personal, professional and political growth. Coming from challenging beginnings, Juli considers those challenges to be the gifts that have made her the teacher and mentor she is and continues to be for so many. Juli has a passion for birth justice, trauma prevention and resolution and she continues her own work of healing intergenerational trauma for herself and her family in her daily life. Juli is proud to bring this passion and vision into her work as an activist, healer, educator, leader and mentor.
Jazz-Ylaine Baptiste:
She/her
Director of Organizational Development
Executive Director, Cornerstone Birthkeeper Trainings
Jazz-Ylaine Baptiste, a.k.a. Queen Jazz-Ylaine, is a: mother, teacher, healer, dancer, birthkeeper, trainer, mentor, childbirth educator, business coach, natural fertility specialist, and womb healing practitioner. Her journey as a birthworker began at the age of 10 years old when she had the honor of being the junior birth coach for her Mom, then pregnant with her sister. This experience was the beginning of a life purpose to serve people and their babies along their birth and reproductive journeys.
In 2018, while pregnant with her daughter, Queen Jazz-Ylaine created Dance Baby Down™, a movement method of birth preparation integrating: meditation, gentle movement, upbeat dancing through labor positions, affirmations and community building. She has trained a handful of Dance Baby Down™ Instructors and looks forward to training many more in the upcoming years.
After three years as the Program Director for the Cornerstone Culturally Diverse Birthkeepers Training Program, Queen Jazz-Ylaine founded Cornerstone Birthkeeper Trainings and serves as the Executive Director. She is also the CEO of The Business of Birthwork, an online business training school for Birthworkers around the world, home of the highly praised signature course Business Essentials for Birthworkers.
Queen Jazz-Ylaine holds a Bachelor of Science degree in Management with minors in finance and international business from Georgia Institute of Technology. She has been an entrepreneur since 2004, and owner of several businesses over the years. Queen Jazz-Ylaine is multilingual, speaking: Spanish, Brazilian Portuguese and French, with life and work experiences in Spain, China, Mexico and Brazil.
She believes that birth is sacred, and an incredible rite of passage. Queen Jazz-Ylaine is dedicated to honoring this sacred rite of passage through: direct support, community education and outreach, and the professional training of doulas, birthkeepers and Dance Baby Down™ instructors.
Queen Jazz-Ylaine is a trainer for the following courses: Comprehensive Birthkeepers Training, Mills College Public Health & Health Equity Full Spectrum Doula Training, Business Essentials for Birthworkers.
Laura Cox, CLEC
For over 7 years, Laura Cox has been providing lactation education and counseling to the Bay Area community. She has the distinct honor of teaching lactation support to Cornerstone Doulas and she also provides training and support to Doulas through the Oakland Better Birth Foundation, where she is also a board member. Laura is a lactation education to the ABSN, BSN, ELMSN students at Samuel Merritt University, and has been invited to teach the medical students at Touro University in Vallejo, CA. She is also part of an advisory group through the IBCLE, which is creating a new certification which ultimately will be providing an internationally recognized discipline of lactation support outside the IBCLC. through education, Laura is trying to change the way we support people on their lactation journey.